AVIVA Community Fund VOTE NOW until Oct. 28th!!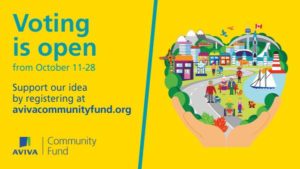 Aviva Community Fund accepted the idea of funding the NLPS but the work begins NOW.
Please go to avivacommunityfund.org and register. Search "lighthouse" and click on Help Save the Nottawasaga Lighthouse. You will have 18 votes which you may cast all at once or every day. We need you and all of your family and all of your friends. Please help us to spread the word. Every vote counts!
We have from now until Oct. 28th to vote.
What a Crew! History in the Making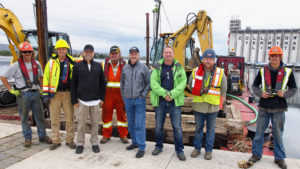 "They're Saving our Lighthouse" Photo by Dave West
Weatherall's Dock and Dredge came down from Meaford today to help start shrink wrap our Lighthouse. This should protect the structure from the elements and slow down the deterioration. Congratulations to those involved in the planning and execution of this stage of the plan to save and restore our Tower.
Thank you so much to SDM Construction, Weatherall Barge, CRS Rentals, Bill Brown's Lumber, Barrette's Disposal, Collingwood Home Hardware, Pro-Tect Plastic & the Collingwood Harbour.
GASLIGHT TOUR Nov. 3-6, 2016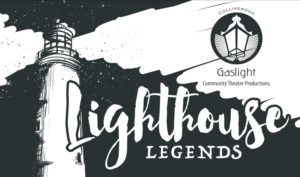 The Tour runs November 3 - 6. Tickets are $43.00 and may be purchased by phone 705-445-2200, at Theatre Collingwood Box Office in the old Arlington building or on line at
www.theatrecollingwood.ca
Don't be disappointed. They always sell out quickly.
NEW VIDEO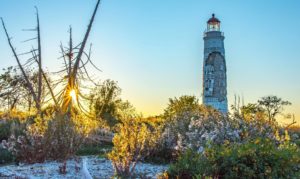 See this incredible video footage from a recent visit to Nottawasaga Island. 
Thank you to Michael Storey from Hawkwood Films! Turn the sound up and enjoy this: https://vimeo.com/182708904
You can Help!We are looking for help with our restorations efforts. It will take money to restore our lighthouse as well as the efforts of dedicated board members. If you can help us in either of these areas please do let us know! Let's preserve this priceless icon for future generations to enjoy.
Donate or Volunteer >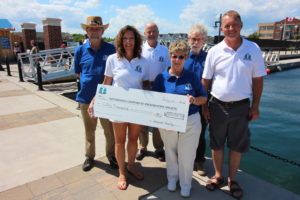 It was a VERY good day for the Nottawasaga Lighthouse. We received a donation of $50,000.00 from Marc and Cyndy Campbell which will allow us to complete the first phase of the restoration. The plan is to shrink wrap the structure this fall to ensure that it is protected from the elements over the winter. Hopefully this will slow down, even stop further deterioration. We then have the winter to continue our fundraising and make plans for part two of the restoration. Pictured here is your board of directors from the left Robert Square, Pat Anstett, Rick Crouch, Nancy Leno, Gary Norman & Stephen Emo.
Join Nottawasaga Lighthouse Preservation Society!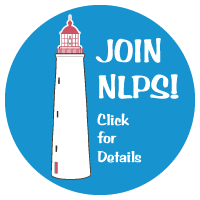 If you are interested in helping save this iconic tower there are many ways you can help. Whether you want to simply stay up to date with our progress or volunteer in some capacity, the first step is to join NLPS. You can join by clicking the button above, filling the online form and with your $25 minimum donation you are set!
Donate or Volunteer >