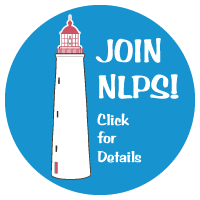 Since 1858, this lighthouse has saved many lives. It's our turn. Without funding, this lighthouse will crumble to the ground.
We have done our best to preserve it from further decay. Please help bring it back to it's glorious state.
Whether you want to simply stay up to date with our progress or volunteer in some capacity, the first step is to join NLPS. Click on the button, fill out the online form and with your $25 minimum donation you are set! Donate or Volunteer TODAY >
Collingwood Yacht Club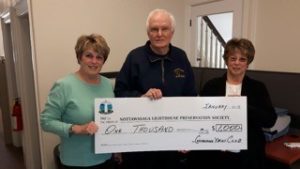 Jim Kilgour was a long time member of the Collingwood Yacht Club, serving as Commodore in 1980. This week the CYC honoured his memory with a generous donation to the NLPS. Restoration of our Light was one of Jim's passions. Here we see Commodore Al Woolnough presenting to Jim's sisters Jan and Nancy.
Al's message to the NLPS...
"The CYC is pleased to present a cheque to the NLPS. Although the 30 m high structure is no longer lit at night, it and the Collingwood Terminals are still icons welcoming boaters to the Collingwood Harbour. We commend those involved in trying to save this historic Lighthouse.
The CYC will be participating in the Ontario Sailing/Row Ontario COAST program. We hope to partner with the Town in a "Get Out on the Water" program.
Sunday, June 25th 2017 the CYC will host our first "Community Care Sail" to raise funds for the General and Marine Hospital. Participants will enjoy some time on the water on a member owned power or sail boat followed by a buffet at the club house prepared by club members."
Fine Wine Raffle WINNER!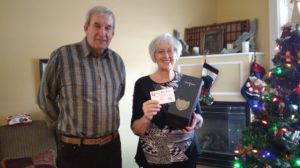 Rob & Marg Mooy
are the lucky winners. Thanks to Derek Crespy of ReMax who generously sponsored the draw & all who purchased tickets. The Lighthouse will be the ultimate winner!!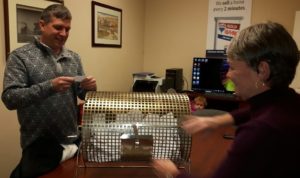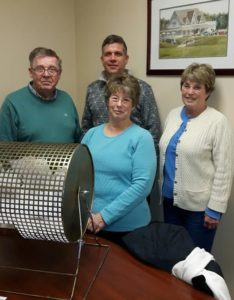 Linda Lavers of Remax drew the winning ticket & the draw was witnessed by Larry Wismer, Nancy Leno and Jan Wrigley.
Support Your Lighthouse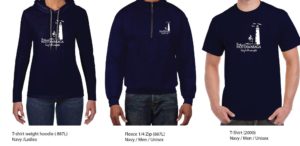 We have our very popular
100% Cotton T-shirts $25
Unisex Sizes S,M,L,XL & XXL
& 2 New Products
Long Sleeved 100% Cotton T-Shirt Hoodie $35
Ladies Sizes M,L & XL
Long-Sleeved 50% Cotton/50%Polyester 1/4 Zip Fleece $40
Unisex Sizes L & XL
For more information or to order,
email: lightkeeper@nlps.info
We Deliver!
Will Mantrop Video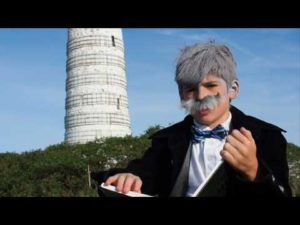 Visit our YouTube page to see the latest video!  https://youtu.be/xt5GkBYZ7yk
One of our young supporters, Will Mantrop, a Grade 5 student at Pretty River Academy has produced a video for a project that is linked to the Collingwood Museum about George Collins, one of the lighthouse keepers. This is AWESOME Will!!
NEW VIDEO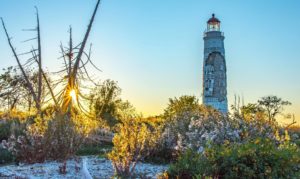 See this incredible video footage from a recent visit to Nottawasaga Island. 
Thank you to Michael Storey from Hawkwood Films! Turn the sound up and enjoy this: https://vimeo.com/182708904
Recent Re-Wrapping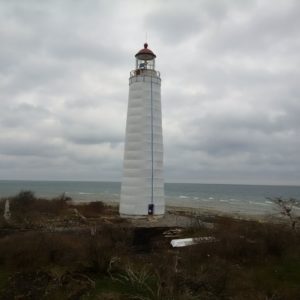 Photos by Stephen Emo
Roger Klein was out at the island.
http://barrie.ctvnews.ca/video?clipId=1009256&binId=1.1272429&playlistPageNum=1
Our Lighthouse has been re-wrapped with stronger material which will protect the structure from the elements and slow down the deterioration. The joints were glued & the seams taped. Many thanks go out the fantastic four who never gave up: Robert Square, Doug Hackbart, Stephen Emo & Erle Heintzman you Light up our lives!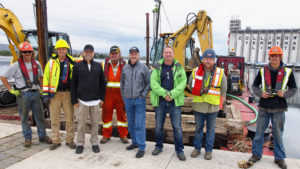 "They're Saving our Lighthouse" Photo by Dave West
Our Lighthouse is being shrink wrapped which will protect the structure from the elements and slow down the deterioration.
Thank you so much to SDM Construction, Weatherall Dock & Dredge from Meaford, CRS Rentals, Bill Brown's Lumber, Barrette's Disposal, Collingwood Home Hardware, Pro-Tect Plastic & the Collingwood Harbour.