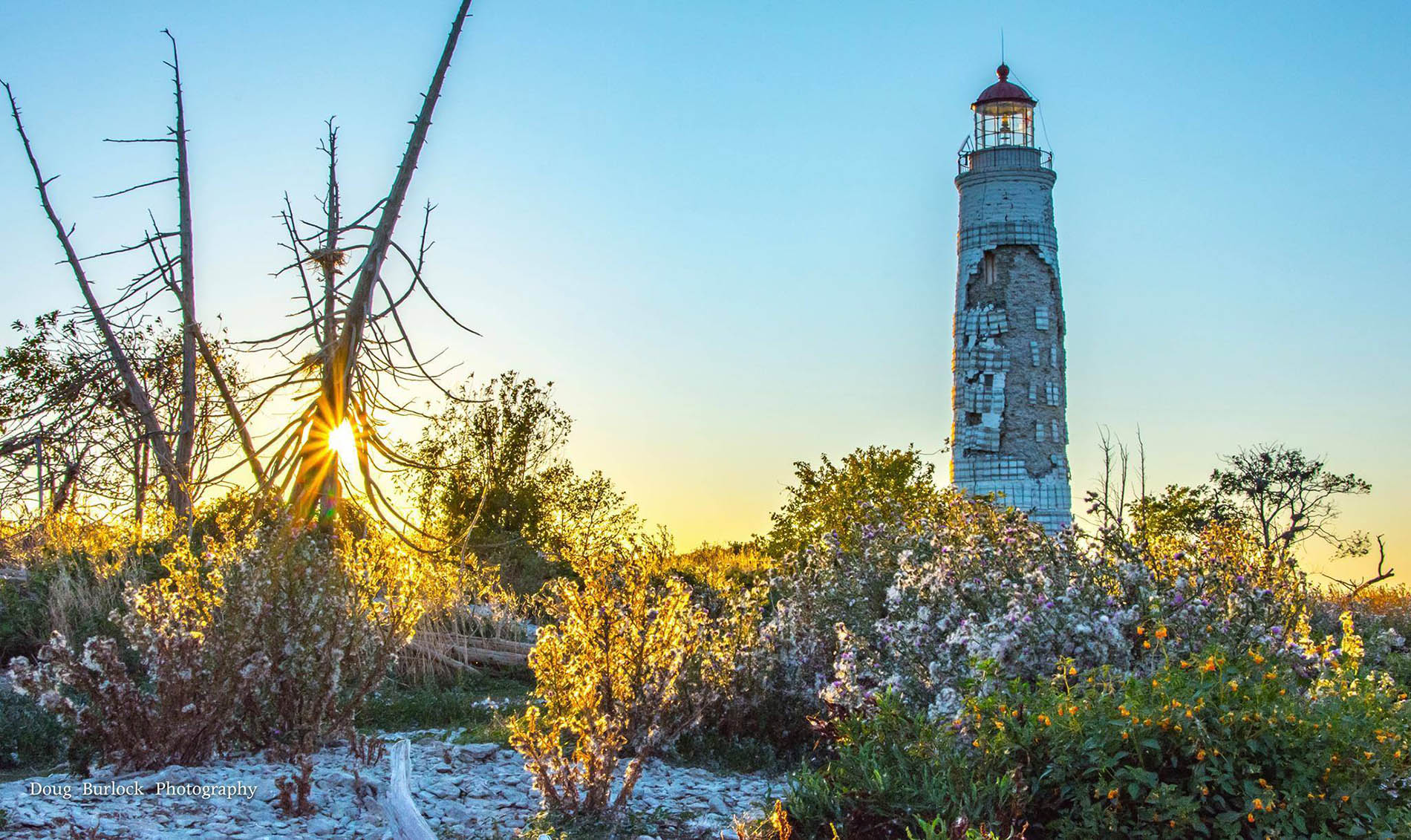 Our Lady of the lake
A beautiful iconic landmark to be preserved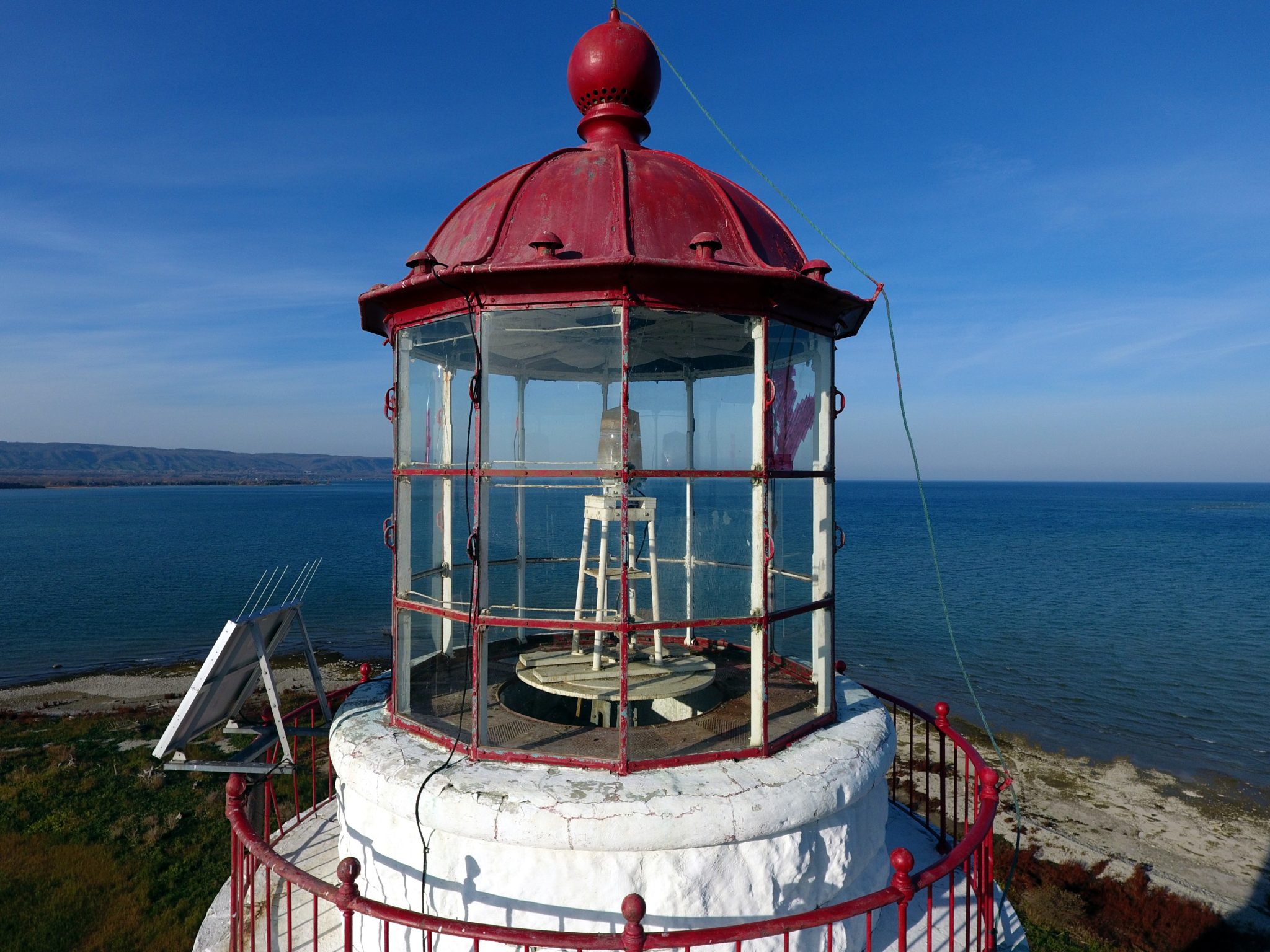 Lantern Room
Mid 1800's French craftsmanship at it's best.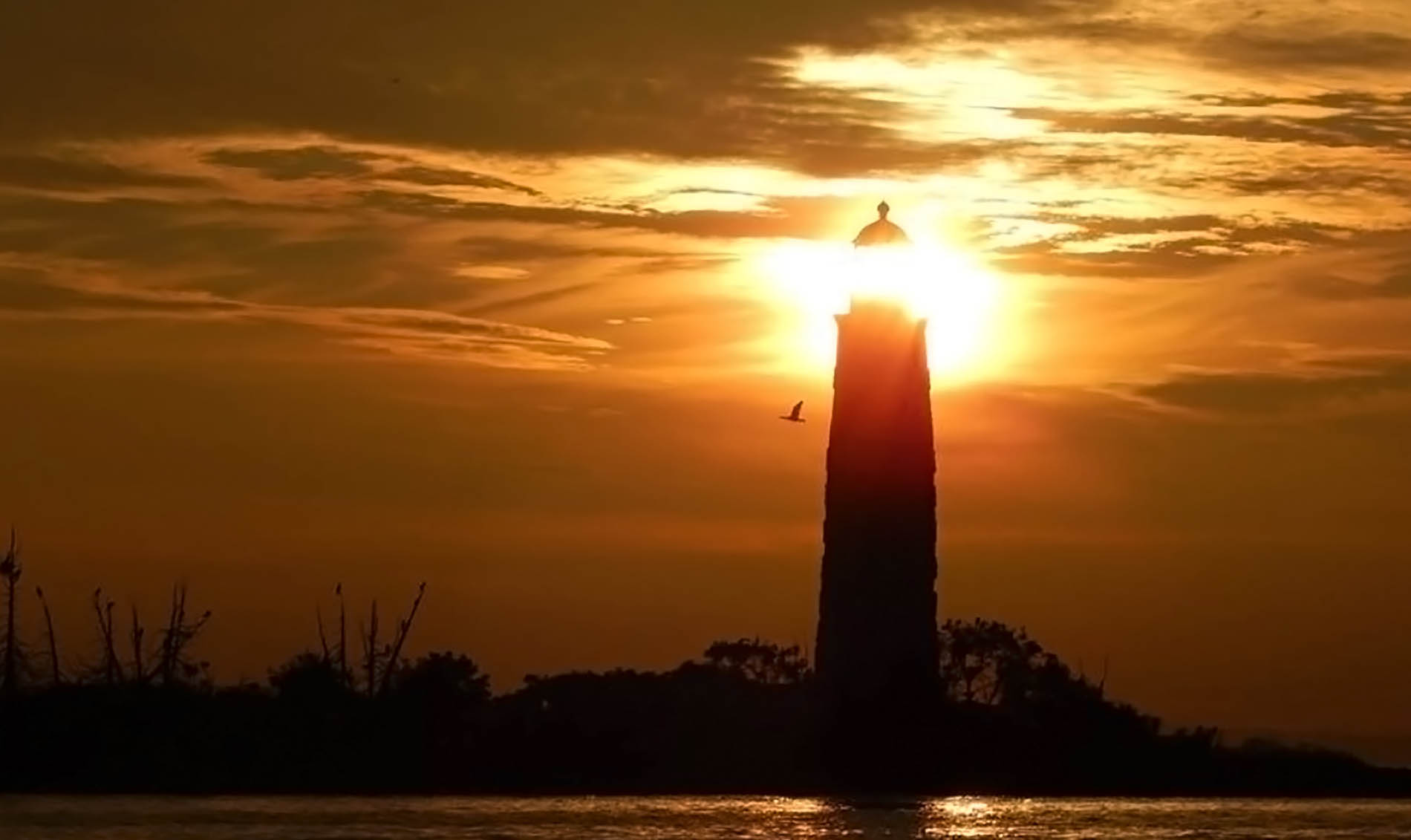 A Beacon of Hope
Guiding the way for generations of ships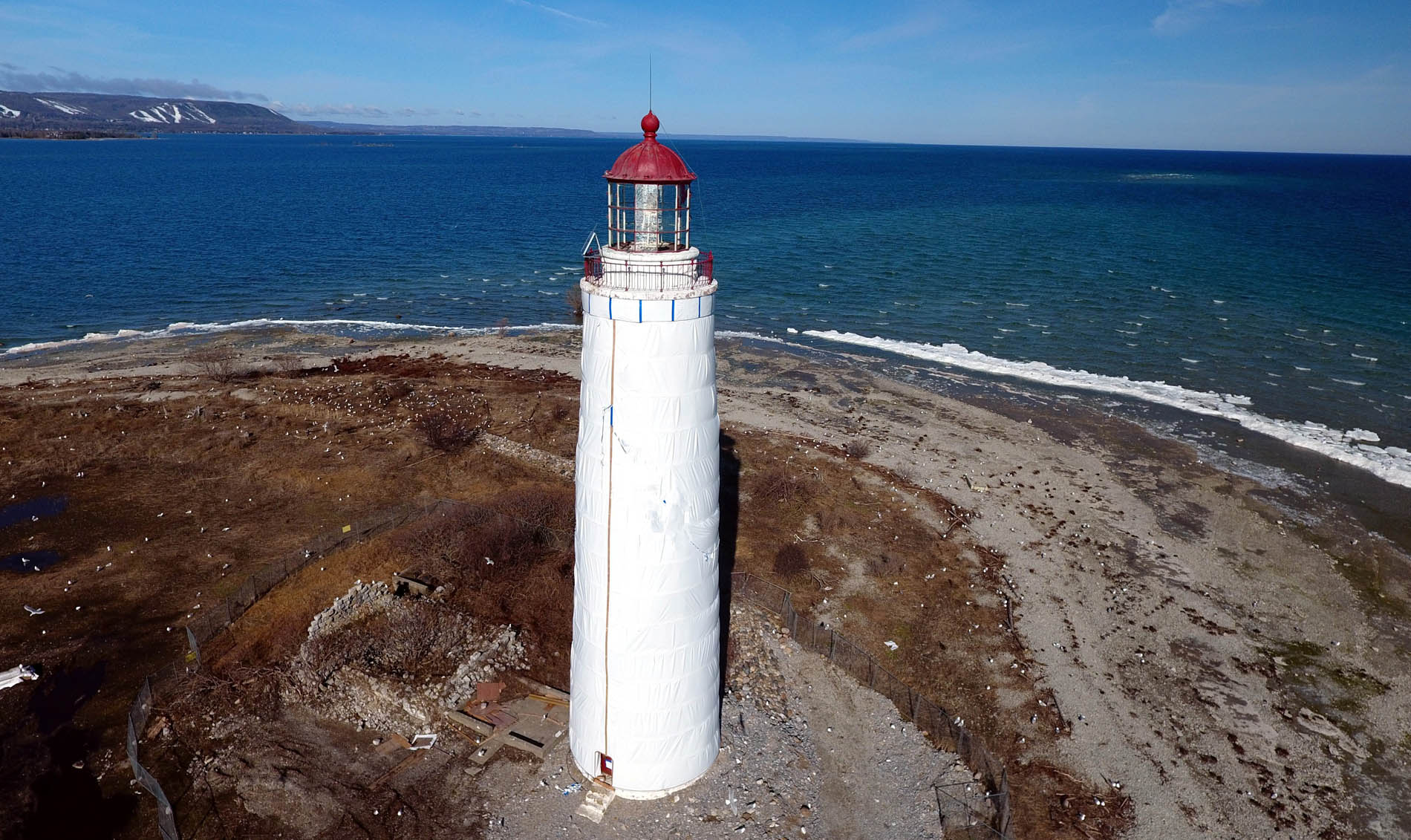 Protect & Preserve
Sealed up to prevent further decay
SCENIC LOCATION
The emerald Turquoise waters of Georgian Bay
One of six "Imperial Towers" built on the Great Lakes, the Nottawasaga Lighthouse has been an iconic local landmark for over 150 years.  With its impressive masonry construction and intricate finishing details of European origin, the Nottawasaga Lighthouse has provided safe passage for both commercial ships and recreational boaters around the treacherous shoals and shallow waters that guard the entrance to Collingwood's harbour.
Having saved countless lives through its 159 year history, the life of the Nottawasaga Lighthouse is now endangered itself and needs saving. Lighthouses such as this have played an integral role in Canada's maritime history and in particular, Collingwood's Shipbuilding past. Although no longer a "lighted" navigational aid, the mere physical presence of this towering structure serves to assist recreational boaters in visually navigating their way safety back to the safe harbour in Collingwood both in good weather and in bad.
The Nottawasaga Lighthouse Preservation Society (NLPS) is a registered charity dedicated to the restoration and protection of the Nottawasaga Island Lighthouse. Preserving its history for present and future generations of Canadians to enjoy while ensuring its role as a navigational landmark continues.
We need your help to preserve this unique part of Canada's Great Lakes history. Joining the  NLPS as a MEMBER is FREE, make a DONATION or VOLUNTEER to help in whatever capacity you feel comfortable with.
To learn more about the past history and current status of this unique piece of Canada's maritime heritage, please visit the HISTORY page of this website or CONTACT US for further information as to how you can help us in our Mission to save this unique and iconic structure.
BLUE MOOSE MNTN CO.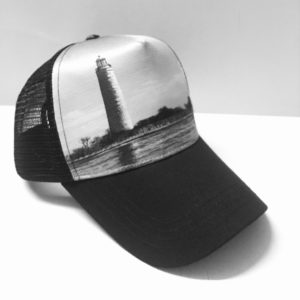 We are really excited to announce our next biggest addition to our Heritage Historic collection of Trucker Caps. Meet our NOTTAWASAGA Lighthouse Hat! After months of visiting her and trying to find the best photo we could possibly use, we all agreed that this was it! This hat is strictly being sold by The NOTTAWASAGA LIGHTHOUSE PRESERVATION SOCIETY at the upcoming NLPS BBQ on August 25th and at the @collingwoodfarmersmarket starting next weekend! All profits go directly to raising funds to save this beauty and this is just the beginning of something wonderful! Join us in welcoming this addition to your collection of hats. Wear it well, and wear it proud! WE CAN DO THIS! Save the lighthouse so we can all enjoy its light once again! @nottawasagalighthouse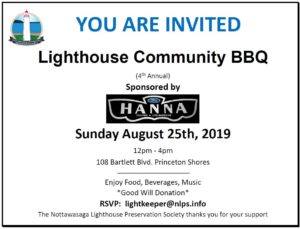 Ray & Wyn Smith have graciously offered to host this
4th Annual Community BBQ
Burgers-Blue Ridge Meats, Buns-Chef Patrick, Tomatoes/Onions-Curries Market
Beverages, Beer-Side Launch Brewery,
Wine-Georgian Hills Vineyard, Music-CBKeyz
Propane-Collingwood Fuels, BBQ-Sunbelt Rentals
- Support the lighthouse     - Bring your lawn chairs
- update of the progress of NLPS
- Bring your kayak or SUP    - Reconnect with friends
On Behalf of the NLPS
Congratulations to Ray Smith
recipient of the Order of Collingwood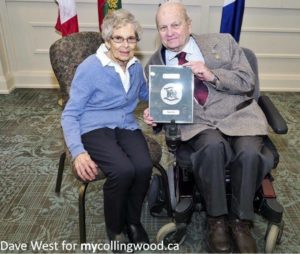 Both Ray and Wynn are long standing NLPS members. Ray brought to life a vision for a Collingwood Youth Centre and volunteered many hours designing the Youth Centre, Hospice Georgian Triangle and the Barbara Weider House. Ray allowed the NLPS the use of his property for our annual Community BBQ, three years in a row. He and Wynn are always so helpful having their property looking its best. We descend on them the day before for set up and are offered the use of their kitchen facilities for food prep. They are great hosts and welcome the public warmly to the BBQ. They also offered their property for a Paddlethon and assisted in running a yard sale all in support of the NLPS.
Thank you Ray & Wynn!
Michael Story Hawkwood Films
Limited Edition Print by Andrew Peycha.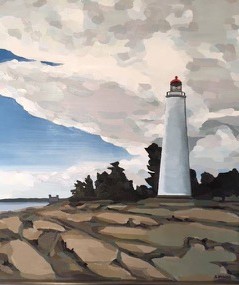 Only 200 signed and numbered prints
GET YOURS BEFORE THEY ARE ALL GONE!
Also available at:
The Georgian Frame Gallery 172 Hurontario St. Collingwood
Matilda Swanson Gallery Thornbury
John & Carol Sanders commissioned Andrew Peycha many years ago and he agreed to have his work copied. We are very grateful to him for supporting the restoration of the lighthouse.
National Trust for Canada 2018 Governor's Award
The Nottawasaga Lighthouse Preservation Society (NLPS) is pleased to announce that we have received national recognition for our restoration efforts. People who follow our progress are amazed at what we have accomplished. It is an honour to receive this award.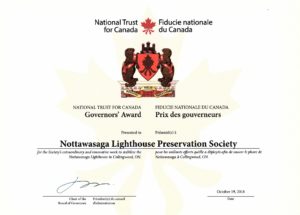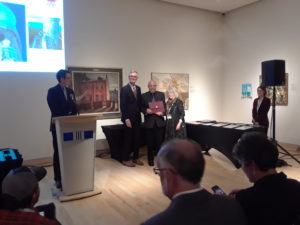 Robert Square, NLPS Board Member/Government Liaison
Heather McInnes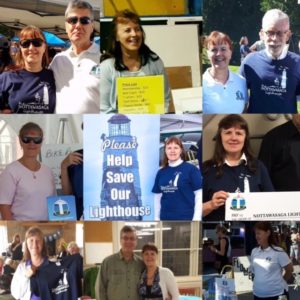 It is with heavy heart, we announce Heather McInnes, one of our long-time valued supporters & volunteer for the Lighthouse has passed away after a short courageous battle with pancreatic cancer.
There is a memorial service Saturday, May 11th @ 11:00am, First Presbyterian Church (Maple & Third St.)
https://memorials.fawcettfuneralhomes.com/heather--mcinnes/3792298/index.php
Heather was dedicated to the cause and community. She gave the Lighthouse her time and efforts.
Heather started as a volunteer and became a friend to many. Our condolences to Heather's Family & Friends