Donations (Membership)
The Nottawasaga Lighthouse Preservation Society is a registered charity with CRA.
We hope to raise sufficient funds to undertake necessary repairs required to restore the lighthouse to its former glory.
There are several ways you can help:
Basic individual member donation ($25/year) 
Family membership donation ($60/year) 
Donations of other amounts. (contact us: Lightkeeper@nlps.info to arrange)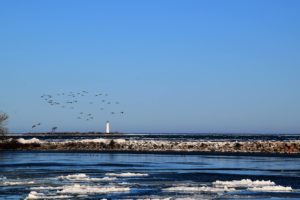 Photo: Roma Assaff
Volunteer
Our board is made up of individual volunteers who utilize their skills in a variety of disciplines to achieve our goal or restoration and preservation. This includes such disciplines as law, accounting, publicity, engineering, marketing, historical curation and more.
If you can help us in any of these areas or would like to find out more about how you might help please contact us: Lightkeeper@nlps.info
If you would like to apply to volunteer you can click the button below to download our  NLPS Volunteer Application. Please fill it out, scan and attach it to an email to: Lightkeeper@nlps.info
You can also scroll down and fill out this volunteer application using the online form below: